There are times when our favorite wardrobe essentials just get outdated because they are not in trend anymore, but our love for them just never fades away. Such one item is a saree. Sarees are available in thousands of different patterns, colors and fabrics that are enormously loved by the women and worn. There are plenty of sarees that are in the wardrobe but aren't worn anymore because of certain reasons. One such fabric of saree is a Silk Saree.
Every woman once, would have purchased a silk saree with a thought of looking absolute classic like the Bollywood actress Rekha. Attachment to such sarees is eternal and cannot be just expressed with words. If you too have a bundle of such sarees, that you dearly love, and cannot just give away on them, here's something you can do. Here are 3 best ways to reuse your old silk saree and keep it with you forever, even when you can't wear it.
1. Turn them into beautiful curtains: Curtains are important. Curtains are not just used as a partition but also as a vital decorative item in homes and businesses. What could be better than making curtains of the sarees that you love, and making them swirl around? Through curtains, you can flaunt the amazing colors and designs of the sarees you have had and could not wear.
2. Make adoring accessories: You would be thinking how sarees could be turned into accessories. Well, you can just cut long strips from the silk saree and remember to hem the edges to prevent fraying. You can now gracefully wear these as scarves, to accessorize your outfits.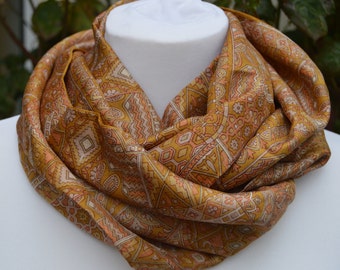 3. How about cushion covers? Another great wear to reuse your shiny, beautiful, classic silk saree is to make stunning cushion covers out of it.
The cushion covers will not only make you feel pleasant and good about your saree and the interior of the house, but will also make the on-lookers gaze at them for long, until they ask, where did you buy these gorgeous cushion covers from?  But shush… that's a secret you must not spill.