Sarees have always been a part of Indian tradition since forever. From the ancient times, the women of the society have always preferred a saree on special occasions over any other form of attire. Sarees therefore, hold a special position in the Indian history and in the culture, traditions and the hearts of the people. From Kashmir in the north to Kanyakumari in the south, from Rajasthan in the west to Assam in the east, saree is worn throughout the country, though in different fabrics and styles.
Sarees are easy to wear and gorgeous attire from India that has taken the world and the international markets like a storm. Apart from India sarees are also worn in other Asian countries like Bangladesh, Sri-Lanka etc., but the sarees of India are exceptional and world famous. With the growing popularity of Indian sarees, trade in the domestic as well as international markets have skyrocketed.
Each state in the country has its own style of repressing their culture through their attires. Some of the most distinctive patterned sarees can be obtained from Rajasthan, Madhya Pradesh, Uttar Pradesh, Gujarat, Tamil Nadu and so forth.
Here are 4 most popular sarees from around the country, that every Indian woman must have in her wardrobe for special occasions that they celebrate throughout the year.
Banarasi sarees: The list of Indian traditional sarees is incomplete without a Banarasi saree. These sarees are hand woven, and come with intricate patterns and beautiful Mogul designs. These are one of the favorite choices of most of the Indian brides. A signature Banarasi sarees includes a narrow pattern which are known as jhallr. These patterns appear like upright leaves and are paired along the outer or inner edge of the border. These are one of the most expensive sarees in India because they are woven in pure golden threads and it takes weeks for a weaver to complete a single piece of work.
Kota Doria sarees: Another most exquisite Indian saree that you must include in your wardrobe is the popular Kota Doria Saree from Rajasthan. These are one of the few sarees in India that are woven in pure light weight cotton. These beautiful sarees are popularly known for their unique fabric which is both gorgeous and transparent.  These elegant, attractive and most comfortable sarees are best suitable for summers.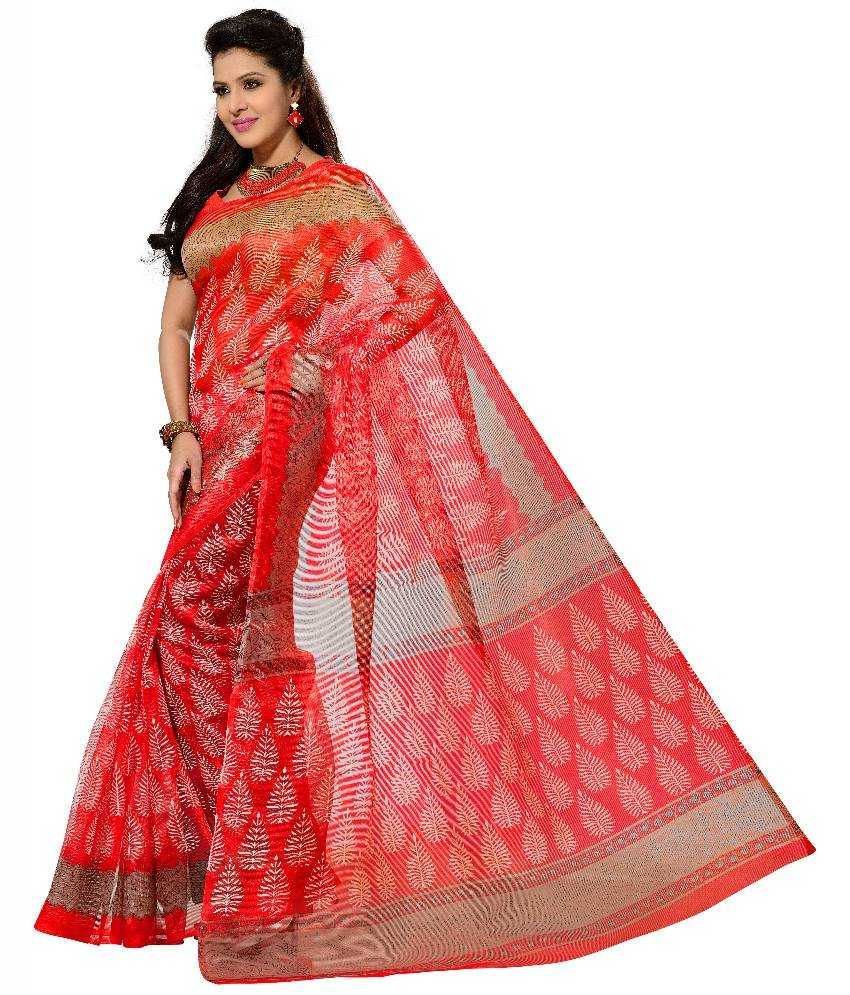 Kanjevaram sarees: South India has a huge contribution in sarees. The most popular south Indian sarees are the elegant Kanjevaram Silk Sarees. They are hand woven with threads of silver dipped in pure gold. These are one of the most durable sarees that one would get in the country and thus are comparatively more expensive. These sarees are popular all over the world. One of the most distinguishing features of the Kanjevaram sarees, that make them stand apart from the rest of the Indian sarees is their thick silk base. Peacock and parrot motifs are some of the most common patterns found on these sarees.
Konrad sarees: Another eminent south Indian saree that must make a place in your wardrobe are the Konard sarees. They are originally woven from the state of Tamil Nadu and are popularly also known as temple sarees because they were initially and are traditionally worn for temple deities.
These sarees now are available in in different bright shades and patterns and have become the most popular bridal sarees.